---
Top level
Music reviews
---
Review by PKS
Debut compilation from Yage Records in Sweden...
Yage Records is a fresh new psytrance label based in Sweden, focusing on the darker side of trance. They are now out with their first compilation, compiled by label manager dj Bröte.


Electric Embryo (Yage Records) 2005 (YAGECD01)

1. Mechanix – Life Lines
2. Toxic – Katarzis
3. Electrypnose – 6h Debout Indux
4. Baphomet Engine – Screams
5. Wizack Twizack – Hallucination
6. Psychotic Micro – Face Of Fear
7. Damage – Resurection Of The Nothing
8. Dark Nebula – Melding Plague
9. Procs – Jerry, Här Är Din Framtid

This compilation starts with a new track by Mechanix (Eldad Ben-Ezry) from Israel, who has released an album (Illegal Dance) on Doof Records in 2003. Here we get a dark track, with a quite heavy rolling bass line and some jumpy sounds. Something for the night. Not among the most interesting dark tracks I have heard, but I really enjoyed a couple of the sounds and the little jumpy melody in there. Track 2 is by Toxic (Alon Atias & Avi Aboresi) who is doing quite good in the darkpsy scene these days, with releases on many different labels, such as Parvati, Nabi, Deja Vu, Paradiso Records etc. Here it goes darker and a bit more rolling. Pure darkpsy, with some intense sounds working like mad in there. We also get some horror movie themes and a pretty cool melody. Track 3 is by Electrypnose (Vins Le Barde) from Switzerland who has released several tracks on Peak Records and a mp3 album on ResonantEarth.com. This one continues the horror movie themes. Still dark, but here we actually get a really cool melody which makes things better in my ears. Quite a lot of variation too. Let's hope more darkpsy artists follows this example. Except for the bass line, this reminds me actually a little bit of Cydonia. My favourite track on this compilation. Track 4 is by a quite fresh artist called Baphomet Engine from Brazil. He has released a couple of tracks on Alkaloid and Nabi Records. Basslines like this doesn't impress me very much, but the scary soundpicture above is pretty cool. Very intense track all the way through. Not among my favourite tracks on this compilation though.

Then we get a track by an upcoming artist from Sweden called Wizack Twizack who we will probably hear more from in the near future. Here we get some tribal drums above the bass line, some Simpsons samplings and totally twisted, weird sounds swirling. Something for those who want their darkpsy to be crazy and psychedelic. Track 6 is by one of the most known darkpsy names out there, Psychotic Micro from Israel who has released an album (Voices Of Madness) on Paravati Records together with Azax Syndrome. Here we get a very pumpy, rolling track going in the typical darkpsy direction. More random sounds and the melodies in this one are really bad in my opinion. The melodies actually reminds me a bit of hard house. Track 7 is by Damage (James Copeland) based in Japan, who released his debut album (God Help Us) on Chemical Crew earlier this year. Personally I really hate this kind of Skazi trance that reminds me way too much of old hard house. Track 8 is a new track by Dark Nebula (Luna Orbit) from Australia who has been in the game for quite a long time, including four (!) albums on various labels. Here we get a crazy, dark track with some light sounds and voice samples in between. Pretty cool, pumping track. The last track we get on this compilation is a new track by Procs (Mikael Stegman) from Sweden who I actually have seen live two times in Norway. He has released tracks on several labels, such as Digital Psionics, Boom! and Shpastic Elastic. He definately finishes with some real madness. Twisted, swirling, weird sounds going like mad in there, above a quite simple bass line. Darkpsy for those who like it totally weird. Maybe something for psytrance people from Finland out there?

In this compilation you will find dark psytrance all the way through, but it is quite a lot of variation between the tracks here, and I really enjoyed a couple of them. So, check it out if you are curious about what kind of darkpsy that's being played in Swedish forest parties these days.
PKS (shivapks@hotmail.com)
Comment List
---
Topic:
Author:

Time:

Death Posture

31.05.2005 01:12

Embryotoxicity…

An embryo (Greek: έμβρυον) is an animal or a plant in its earliest stage of development – and Electric Embryo is such a well-fitting name for this first compilation from Yage Records. This is a new label operating out of Gothenburg, Sweden… It's run by a group of friends headed by DJ Bröte (Mikael Löfgren) who also spins this kinda music at parties… If you haven't guessed it already by looking at the track listing, I can reveal that the style here is raging dark, hard night trance – and that tracklist sure looks interesting from where I'm sitting… And with mastering by none other than Tim Schuldt himself, I'm putting this on with an optimistic mind…

Let me take you thru the tracks…

#01: Mechanix – Life Lines
"Unidentified aircraft. You're ordered to descend to 20.000 feet. […] You have ten seconds to comply… Repeat: Lower your altitude to 10.000 feet. This is your last warning!" Mechanix is Eldad Ben-Ezry from Israel… He's a Yage Records label DJ and has already released a number of compilation tracks and his debut album Illegal Dance was released on Doof Records in 2003… He starts his track with an archetypical movie sample and within 30 seconds the bassline is kicking hard already… This is a darkish track, though with a melodic edge… I really like the neat little acid twirls that Eldad so generously has sprinkled throughout the track… Nice! Also the there is a certain drive to this track that I dig – it keeps building and changing direction… The break is particularly well executed! Overall a very nice track and just as with Eldad's track on the Peak Records compilation Peaking in Tongues this is funky as hell!

#02: Toxic – Katarzis
Toxic is Alon Atias & Avi Aboresi from Israel who've released tracks on classic hyper trance labels such as Timecode, Nabi and Parvati … I was pretty impressed with the techy track on Psychedelically Yours 2 released last year on Parvati… And this track is very similar to that one… The intro is brutal here – almost gabbaesque and very spooky! The pace is incredibly fast and basically this is a wall of sound … No-questions-asked hyper-trance that will repulse some and makes others cum in delight… Generally I like it, although it's a little too intense for home listening… But a good track nevertheless!

#03: Electrypnose – 6th Debut Indux
Vince Le Barde from Switzerland released his debut album Brain Stretching on ResonantEarth.com earlier in 2005 – and the Swiss wizard has also impressed me with his compilation tracks on Peak Records… As always with Electrypnose the sound is very unique – though darkish and eerie, it's also very well-balanced and has squeaky melodic elements… Darkish, yet uplifting – squeaky and bubbling… Nice track!

#04: Baphomet Engine – Screams
Fábio Aurelio S. Japiassu & Luiz Fernando Secchinatto from Brazil both derive from rock backgrounds, but eventually found psytrance. The duo has released tracks on Alkaloid and Nabi Records, but this is my first chance to listen to their music… The bassline here is pretty static – but is supported by a strong array of digital twists and turns… I think this is meant to be scary, but the freaky screams the title refer to are only introduced in the very last seconds of the track!?… A decent track…

#05: Wizack Twizack – Hallucination
WT is Tommy Axelsson from Sthlm, Sweden and this is his first track ever released… He seems to have picked up the let's-sample-The-Simpsons trend – and he does that pretty well… I like a little humour in psytrance, and Tommy does that well for a n00b… He's also a talented producer with his rolling sequencing-work and distorted melodies… This track has a very deep, raw underground sound… When you close your eyes you can almost feel the Swedish forest trolls crawling up your legs… Could easily have been released on Trishula or Stoneage Records… Tasty!

#06: Psychotic Micro – Face of Fear
Psychotic Micro is Mickey Lellouche & Kobi Stavi from Israel… They've released a number of tracks as Psychotic Micro and they are partly responsible for the tracks by Psycho Talk, Catla and The Chemical Mafia… A couple of very productive guys indeed! This track is just what you'd expect from these guys – dark, gritty psytrance to be played during the darkest hours of the night… With all kinds of weird twists and turns to accompany the minimal bassline… The first half of this track is good, but for the last couple of minutes it tastes too much like Skazi for my taste…

#07: Damage – Resurrection of the Nothing
Though Dean from South Africa is also a Skazi disciple, I like this track better than the previous one… It still has too much fluff to score top marks in my cool-book, but there are interesting ideas here to justify repeated listens… For instance, I like the sample of the old Neverending Story track that pops up suddenly from out of nowhere… Funny! But as a whole, this is simply too hectic and has too many fluffy elements… Decent track!

#08: Dark Nebula – Melding Plague
"Invisible mutant, eradication, extermination, annihilation, invisible mutant, eradication, extermination, invisible, unstoppable..." Aussie Luna Orbit has also been very, very productive over the years – with four albums and countless compilation tracks… We're dealing with a true darkpsy veteran here! I've always liked his style and this is no exception… I dunno what's in the water supply downunder (Well, GHB supposedly…), but those Australians are producing some of the very best hypertrance around… And this is a very cool track too: it's fast-paced, humorous, relentless psytrance with darkish elements and a ton of psychedelia… The computer-samples are funny and my overall impression of this track is very positive!

#09: Procs – Jerry, Här Är Din Fremtid
Procs is Mikael Stegman from Sweden and he is know for his extremely psychedelic-slash-weird tracks on Shpastic Elastic, BooM!, Digital Psionics, Altitude and Sonaton… And when I say weird, I mean weird… This track here strays very much of the beaten path – it even stands out on this compilation – the closest would be the Wizack Twizack track… This is extremely psychedelic, hectic, multilayered, unstructured trance… You can't get much more underground than this! If I had to compare it with something it's somewhere in between Finnish/weird Australia – with a big splash of Schlabbaduerst… The title translates into "Jerry, this is your future"… I foresee Jerry eating a 4.000 kilo shroom/LSD cocktail in the future – be careful Jer! …Very original, and very trippy!

This is certainly a very interesting first release by Yage Records – and this is a label I'll look very much forward to hearing more from in the future. There are at least a handful of very good tracks here – and I'm sure even the tracks I personally like less will find their audience… Perhaps the general flow of the compilation is a little off at times, but generally I like it and I'm sure Yage will find its way once more experience is gained… A very solid foundation has been laid with this compilation.

The cover art kicks major ass, though the spelling errors could have easily been corrected with an extra proof reading… I will not hesitate to recommend this to fans of the darker/weirder realms of psytrance… If you've enjoyed Parvati, Trishula, Ketuh, Gi'iwa, Digital Psionics or Schlabbaduerst releases I'm sure you'll find something here you'll like too… Enjoy!

Favourites: 1(!), 2, 5(!), 8(!!), 9(!)

DeathPosture

Tommy Axelsson

31.05.2005 01:21

Yo DP! killer review!!

just wanted to add, its not my first release :D i´ve released 2 trax on stone age records latest compilation that u didnt review yet :( hehehe

and soon more releses will come from Killah Tea Recordings (demon tea)
and acidance and more!!

bOOm...
---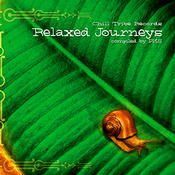 New album
from
Chilltribe
Relaxed
Journeys


Get your
Quality
Relaxation!