---
Top level
Music reviews
---
Review by PKS
New compilation out on Neurobiotic Records in Italy compiled by Altöm...
Neurobiotic Records in Italy is one of the leading full on labels these days. This summer, they are also organising one of the major psytrance events this year, Sonica 2005. Now they are out with a new full on compilation. This time compiled by Altöm (Alexis Cornet & Thomas Dubreuil) from France.


Groove Controllers (Neurobiotic Records) 2005 (NBRCD014)

1. Silicon Isness – Inside My Head
2. Altöm – Blue
3. Altöm – Not For Children (Space Cat Rmx)
4. Talamasca – Psykick X-Perience
5. Tikal – Infected
6. Altöm – Cobra
7. Altöm – Spray (Shanti Rmx)
8. Wrecked Machines Vs. Joti Sidhu – Twenty Five
9. X-Noize – Drum And Chase

First out is a new interesting collaboration between two of the most known full on artists these days, Silicon Sound (Johannes Regnier) and Sirius Isness (Max Petterson & Davina Elmosnino). Here we get a pure morning trance track, with a little bit more fluffy sound than I had expected from them, but an okay melodic full on track. Track 2 is a new track by Altöm themselves. They released a very strong second album (Groove Control) on Neurobiotic Records last year. A full on album that kept a nice balance away from getting too fluffy. The track we get here goes the same direction as their album. Melodic, floating, trippy, full on morning trance, with groovy, rolling bass line from beginning to end. Track 3 (Not For Children) is also originally made by Altöm (released on their Groove Control album), but here we get a remix done by Space Cat (Avi Algranati) from Israel. I really enjoyed the original version of this track. The remix we get here is actually very similar to the original. Not much difference at all, so not much new here. Track 4 is a new track by Talamasca (Cedric Dassulle) from France. As usual, he gives us a very melodic full on track. Luckily, not as fluffy as many of his latest tracks has been. Actually one of the better tracks I have heard by him lately. Massive, rolling bass line with a heavy, trippy melody on top.

Track 5 is by Tikal (Manuel & Vincent Bernal) who did very well with their strong debut album (Ritual Cycle) released on Neurobiotic Records last year. Here we get ethnic influences as usual. A very drifting track which reminds me quite a lot of Bamboo Forest. In the middle of the track we get some pretty cheesy vibes which ruins the track a little bit for me. Let's hope they will go deeper instead of fluffier in the future, and not like Bio-Tonic for example... Track 6 is another new track by Altöm themselves. Quite typical Altöm track, with massive bassline etc. but I find this track a little bit more fluffy and more Israeli style than they had on their album. Track 7 is also originally by Altöm (Spray), but here we get a remix done by Shanti (Shanti Matkin), also known as Juvenile and the little brother of one of the GMS guys. Again, not that different from the original and I prefer the original version. Track 8 is a new interesting collaboration between Joti Sidhu from the UK and Wrecked Machines (Gabriel Serrasqueiro) from Brazil. Joti Sidhu released an album (Punktuator) on Neurobiotic Records earlier this year, while Wrecked Machines released an album (Second Thought) on Spun and Solstice Music a couple of months ago. Here they give us the darkest track on this compilation. A very groovy, massive, stumping track. It could have been some more variation here, and the little melody sounds very much like GMS. Also the drug sample is a bit cheesy. The last track on this compilation is by X-Noize (Barak Argaman & Nadav Bonen) from Israel. A duo that has been debated quite a lot lately because of a track they are releasing soon on the Imagi:Nation compilation on TIP.World, where they have made a full on remix of a famous Delta track. The track they give us here is nothing special. Typical Israeli full on of the kind I have heard a million times this winter.

This compilation is far away from the best compilations Neurobiotic Records has released so far. You get some massive full on tracks here, but with a little bit more clubby vibe than before. But, it seems like almost all the full on artists are going more clubby these days, so it doesn't come as a surprise. Full on tracks you will for sure hear on various full on open air gatherings this summer.
PKS (shivapks@hotmail.com)
Comment List
---
There are no comments.
---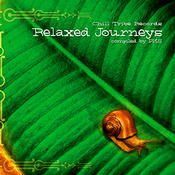 New album
from
Chilltribe
Relaxed
Journeys


Get your
Quality
Relaxation!