| | | |
| --- | --- | --- |
| Chilling Matenda "Mediteran" | | |
---
Top level
Music reviews
---
Review by PKS
New chill album from Swedish Matenda...
Denis Matenda is a Swedish guy who has released two progressive trance albums, on Spiral Trax in 2001 (Energy Loader) and Flow in 2004 (Tunnel Vision). Last year he also produced an ambient/chill out album (Chilling Matenda), which he released as the first release on the respected German chill out label Chillcode Records. He got very good feedback on the album, and now he is out with his second chill out album. This time he goes under the Chilling Matenda name, instead of only Matenda. It is released as the first album on his own label called Global Phonehead Records.


Chilling Matenda "Mediteran" Global Phonehead 2005 (GPCD001)

1. Good Old Sun
2. No Comprendo
3. Wonderful Life
4. Itís A Long Time Ago
5. Mediteran
6. Arpeggio Grazioso
7. Lucky Smile
8. Adio Raj
9. Flashback
10. Need You

This time he is influenced a little bit by Ballearic vibes, which you also see on the album title... Allready in the first track you get som ballearic vibes. Floating sounds and relaxed down tempo beats, with some ballearic guitar sounds in between. Something for a cafť on Ibiza maybe? Track 2 gives us a very loungy vibe. Relaxed, down tempo lounge music. Easy listening for your summer chill. Quite easy digestible melodies etc., but should fit perfect on a tired day in the sun. Track 3 goes a little bit more uptempo. A quite stumping beat, that you can either dance to or relax to. A bit housy vibe too, with some piano etc. Track 4 goes slower and more relaxing again, still with down tempo beats. Quite atmospheric, floating track, but not among my favourites on this album. Track 5 has the album title. Totally relaxing summer vibe with down tempo beats from beginning to end. Maybe more suited for an Ibiza cafť than the psychedelic crowd... But as he writes, this sure has some Mediterranean influences...

Track 6 is my favourite track on this album. It continues some kind of Ibiza style, but I really like the melody in this one. I get a totally relaxed summer feeling of this track. Perfect for chilling out in the sun. Track 7 continues the same down tempo style. Here in a bit more floating way. Again I get a little bit feeling of some cheesy Ibiza vibes here. I really donít like the melody in this one. Track 8 gets better and more deep. Pretty nice melody, and a totally floating relaxed vibe. Track 9 goes even more chilled, with slow beats and a totally floating soundpicture all the way through. Again a bit easy digestible melody. The last track on this album is another very loungy track. Not very deep, but still relaxing music that could fit in a cafť etc.

Personally, I enjoyed his first chill out album more than this. But, as the title tells us, this has a very Ballearic sound that should fit perfect on Ibiza etc. so thatís probably why this is a little bit more easy digestible. With other words, not the typical psychill album you might expect. I also miss some more variation here. But, Iím sure I will enjoy some of these tracks in the sun this summer.
PKS (shivapks@hotmail.com)
Comment List
---
There are no comments.
---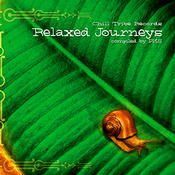 New album
from
Chilltribe
Relaxed
Journeys


Get your
Quality
Relaxation!