---
Top level
Music reviews
---
Review by PKS
Second progressive compilation from Tribal Vision Records...
Tribal Vision Records based in the Czech Republic is out with their second compilation, after the successfull Urban Legends compilation released December last year. It is compiled by Slater & Schwa, and we get a few well known artists, as well as some fresh ones. Also this time, we get a fat booklet with pictures and information about each artist, which I find really cool!


Lime Light (Tribal Vision Records) 2005 (TVRCD002)

1. Jaïa Vs. French Kisz – Drifting Planet
2. Rai – Liquid
3. Vision & Canedy – Collected Vibes
4. Minilogue – Leloo
5. Flowjob – Cloud Politics
6. Holm & Andersen – Cityrain
7. Ticon – Reflections
8. Leo – Music Design Revolution
9. Shuma – Illektro Music

First out is a very interesting collaboration between Jaïa (Yannis Kamarinos) and French Kisz (Stéphane Deschezeaux & Fathallah Lekal), both from France. Jaïa is a veteran in the trance scene, and has started releasing progressive trance lately. French Kisz is more known in the house scene. The track we get here is probably a few years old, but never released before. The first time I heard it was in a jaïa live set at the Samothraki Dance Festival in Greece three years ago. A progressive track with pure summer feeling. We get some really dreamy guitar in there, which lightens it up a lot. Nice one! Track 2 is by Rai (Roman Horinek) based in Prague. He also had a track on the first Tribal Vision release. The track we get here is really nice! I get totally summer feeling by this track. Quite housy, drifting progressive trance. A little bit too fluffy for many probably, but I think this will work fine in the summer evenings this year... Track 3 is by Vision & Canedy (Marci Mellmann) from Germany. He has released quite a lot of housy tracks, on labels such as Avalanche, YSE, Plusquam and Plastik Park. He also released an album (Another Life) on Hadshot Haheizar last year. Here we get a groovy, quite minimal progressive house track. Track 4 is by a duo called Minilogue (Sebastian Mullaert & Marcus Henriksson) from Sweden. They go under many aliases, but are most known as Son Kite. Here they give us a very housy vibe. Very funky track that will probably be appreciated by a house crowd and the progressive trance scene.

Track 5 goes a bit more massive. This is made by Flowjob (Joakim Hjorne & Mads Tinggaard) from Denmark. They are releasing their debut album on Iboga Records this year. Here we get a very drifting, quite trippy track, with some nice tribal drums above the bassline and floating echoing sounds. Nice one. Track 6 is a new Danish collaboration called Holm & Andersen. This is Kristian Thinning Andersen, most known as Elysium, and Kim Holm who has been a dj in Denmark for many years. Here they are with the first track they release together. Playfull track with a pretty funny voice sample and some beautiful floating vibes. Not the most interesting track Mr. Andersen has been involved in, but an okay progressive, housy track. Track 7 is by Ticon (Filip Mardberg & Fredrik Gilenholt) from Sweden. They are well known in the progressive trance scene, with a lot of releases on various labels, including two albums on Spiral Trax Records. This track goes a bit more clubby direction, with some electro influences etc. A bit more melodic than most of the other tracks on this compilation too. Track 8 is by Leo (Leo Leite), who is a fresh, new progressive trance artist from Brazil, now based in New York, but has been a dj for many years. He gives us a quite dark progressive trance track. The darkest track on this compilation, with floating vibes and melodies that builds up. The last track we get on this album is a track by Shuma (Davor Tosovic & Emir Cehaic) from Zagreb, Croatia. They have previously released a track on Hadshot Haheizar. This is surprisingly a pure electro track, with typical 80's computer voice samples etc. Not really my cup of tea, but this should proably please those who like housy electro music.

Tribal Vision keeps a pretty high quality level as they did on their first compilation too. I really like the way they present the artists with a booklet, and the guys has done a good job compiling. I like the first compilation slightly better, but this is for sure one of the better progressive compilations to come this spring.
PKS (shivapks@hotmail.com)
Comment List
---
There are no comments.
---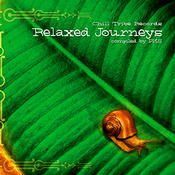 New album
from
Chilltribe
Relaxed
Journeys


Get your
Quality
Relaxation!