| | | |
| --- | --- | --- |
| Hammering The Gates Of Soul | | |
---
Top level
Music reviews
---
Review by PKS
New darkpsy compilation out on Inpsyde Media...
Italian Inpsyde Media keeps pushing out darkpsy on their compilations. Their artist albums seems to be mostly other kinds of full on but on the compilations, they stick to the dark stuff. Now they are out with a new compilation for those who like it beyond dark at night. It is compiled by dj Natan from Austria.


Hammering The Gates Of Soul (Inpsyde Media) 2005 (IME008)

1. Terminator – Kfsbk On Submarine
2. Seroxat – Communication Breakdown Rmx
3. Equilibrium – Ex-er-sis
4. N3xu5 Vs. Dark Psy – No Network
5. M.W.S. - In Malo Veritas
6. Freaking – Deprivation – Chambers
7. Big Noise – Power Ride
8. Cyberplanet – Wasabi
9. Exited – Lirik On Outer Space
10. Derango – Doomorgon Rmx

Darkpsy is also called Russian style, so why not start the compilation with a russian artist. The first track is by Terminator from Russia, who is known for tracks on labels such as Discovalley, Deja Vu and Vertigo Records. This track starts pretty cool with some drum'n'bass beats and scary sounds, before we get thrown into the dark, rolling madness. Like an engine that starts. No sign of light, only scary movie themes all the way. Something for the darkest hours. One of the better darkpsy tracks I have heard lately. Track 2 is by Seroxat (Ofer Maoz) from Israel who released his debut album (Brutal Beat's) on Crystal Matrix Records last year. He follows the kind of darkpsy that I don't like at all, which is something that sounds like a mix of hard house and psytrance. I'm thinking of the "take off" parts of the track and some of the sounds, which I find a little dull. Track 3 is by a fresh, new artist from Russia called Equilibrium (Kitty Kappa). Here we get a really twisted, weird soundpicture. Some mystic floating sounds in between several bubbling and dripping psychedelic sounds. Very flat production (as a lot of darkpsy is...), but he has for sure played around with sounds here. Track 4 is by a more wellknown act in the darkpsy scene, Nexus (Luis Miguel Lopes) from Portugal who released his debut album (Psycho Therapy) on Kagdila Records earlier this year. Here he has made a track together with someone called Dark Psy. A dark, pumping, night time track. Actually nothing special about this track, just the kind of darkpsy we have heard a million times before. A flat bass line with swirling sounds (no new sounds) above. Track 5 is by M.W.S., which is dj Natan himself, together with a guy called Shodan. Here they are with their first track. This track has some pretty cheesy voice samples that follows the track through, which I'm not too happy about. Also some guitar. Not among the best tracks on this compilation.

Then we jump back into pure Russian trance again. Track 6 is by Freaking (Victor Zorenko aka Zolod, Kristy & Sasha Aizin) from Russia, who has released tracks on labels such as Deja Vu, Discovalley, Sirius, Serephana and Paradiso Records. Victor is also one half of Parasense... The track we get here is actually my favourite track on this compilation. They manage to put in some dark, cool melodies too, and things sounds so much better! Hopefully more darkpsy artists will follow their example. It doesn't necessary become cheesy just because there are some melodies in there... Track 7 is by another pretty fresh duo from Russia called Big Noise. Zolod is also involved in this project, which he does together with a guy called R-Om-Alienetic. This is also pretty good, because they have added some mystic floating vibes in between all the madness. Track 8 is by a new Russian artist called Cyberplanet. An intense, crazy track with quite a lot of variation compared to a lot of other darkpsy. We even get a light break in the middle of the track. Track 9 is also by a new Russian artist called Exited (Furious Vovan). Pretty cool track with some really weird, psychedelic sound pictures. What I like the most is that he uses a little bit different sounds than the usual noisy stuff that all the darkpsy artists use. Dj Natan finishes this compilation with a track from a more well known duo called Derango (Jens & Ola Eriksson) from Sweden. A rolling track with tons of swirling sounds. Very intense all the way through. They also manages to mix in a little melody, which helps.

This compilation is actually one of the better darkpsy compilations I have heard. Some more creativity than the usual nagging style all the way. A couple of the tracks sounds a bit simple, but most of these guys definately have something going within this style.
PKS (shivapks@hotmail.com)
Comment List
---
Topic:
Author:

Time:

Magnus Støren Wedèn

04.06.2005 14:17

Ikke ment som noen form for bæd kritikk, men blir det ikke litt snålt at du (PKS) anmelder Darkpsy? Syntes liksom alle dine reviews av darkpsy blir "heavy mørk lyd med masse tilfeldige lyder". Er det ikke bedre å bruke en person som faktisk er glad i darkpsy til å anmelde slik musikk? Føler liksom at alle dine anmeldelser ang. darkpsy alltid blir vinklet negativt, uansett. Jaja, dere gjør jo fremdeles en fet jobb med å holder siden oppe og gående ;)
---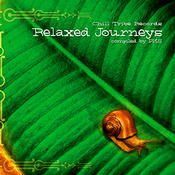 New album
from
Chilltribe
Relaxed
Journeys


Get your
Quality
Relaxation!