---
Top level
Music reviews
---
Review by PKS
Debut album by Sidhartha out on Metatron Production...
Sidhartha (Nuno Santhos) is a fresh new full on artists from Portugal. He has previously released a track on Kagdila Records. He is now out with his debut album on the new Israeli psytrance label called Metatron Production.


Sidhartha "Reverse Mode" Metatron Production 2005 (MPRCD002)

1. Reverse Mode
2. Motion Detector
3. Mars Arrival
4. Inner Voice
5. No Worries
6. Physical Forms
7. Sudden Shifts
8. Deep Sonar
9. Psychotic Behaviour
10. Dance With The Stars

This artist is from Portugal, but the tracks we get here sounds very much like typical Israeli full on trance. The first track goes full on all the way through. Not so melodic, but with quite a lot of psychedelic sounds jumping in there, above the groovy, rolling bass line. Track 2 goes the same direction, here with some breaks and with more floating vibes above the bass line. Track 3 is more pumping with a little bit darker sound. Quite massive full on for the night. Track 4 continues a quite dark sound picture. This one has a melody that should be easy to recognise. Very typical full on of the kind we have heard a million times before. On track 5, he has added some tribal drums above the bass line, which makes it a little bit more fun. The rest, is full on sounds we have heard many times before.

Track 6 is one of my favourite tracks on this album. A little bit more variation, and more trippy, drifting vibes. Track 7 is a massive, pumping track that goes back to a darker vibe again. Here we jump into guitar trance. It seems like most full on artists put in some guitar trance these days. But, this is not among the worst guitar tracks I have heard. The guitar luckily doesn't get annoying like these 80's riffs often do. Track 8 is a rolling monster. Here we get some really cool sounds too, which lightens up the track alot in my ears. The best track on this album in my opinion. Very trippy and not cheesy at all. Track 9 sounds pretty good too. Something for the night, with quite evil melodies. We also get a drug sample in there, which he could have dropped. This track reminds me a bit of GMS, but not as fluffy. The last track goes full on too. A little bit lighter, with more floating vibes. Not among my favourites here, but not bad.

This album luckily doesn't go as clubby and fluffy as most full on albums do these days, which is great for a new unknown artist like this. These tracks sounds very much like a lot of other full on being released these days, but some of these tracks surprised me a little. So check it out if you still are into this kind of full on.
PKS (shivapks@hotmail.com)
Comment List
---
There are no comments.
---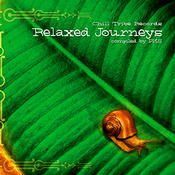 New album
from
Chilltribe
Relaxed
Journeys


Get your
Quality
Relaxation!