| | | |
| --- | --- | --- |
| Earth Octave Lounge Vol. 2 | | |
---
Top level
Music reviews
---
Review by PKS
New compilation out on Canadian Interchill Records...
Interchill Records in Canada is out with a new compilation. This time the second chapter in their Earth Octave Lounge series. A series that focus more on the earthy side of chilled electronic music. It is compiled by Gordon Field.


Earth Octave Lounge Vol. 2 (Interchill Records) 2005 (ICHILLCD019)

1. M-Seven – Electronic Flip
2. Aquila – La Rosa
3. Overflow – Ruuhilampi
4. Human Blue – Beautiful Stranger
5. Crystalline – A Sigh Becomes A Thousand Trees
6. Guru Shishya – Cagian 3
7. Liquid Stranger – Political Finga
8. Alucidnation – Skygazer (3002 Remix)
9. Fredrik Ohr – Return
10. Mystical Sun – Halo
11. Drift – Ember (Rem-Ember Mix)

As usual, Interchill uses both quite fresh unknown artists and some usual suspects. First out is a quite unknown one called M-Seven, who has previously released a track on the Café Del Mar series. Here we get a relaxed track with some sort of Ballearic vibes, with guitar etc. Typical lounge music that should fit perfect in some trendy café etc. Track 2 is by Aquila, which is a collaboration between the famous world music singer Irina Mikhailova (also known for her vocals in Star Sounds Orchestra, Medicine Drum, Toires, Kaya Project etc.) and David Battenfield. Here we get the beautiful voice by Irina, and some nice relaxing beats, guitar etc. done by David. This track is also used in the Boom Festival documentary. Beautiful track! Definately one of my favourite tracks on this compilation. Track 3 is by an artist from Finland called Overflow (Jürgen Sachau). This guy has released a track on the Finish label Surreal Audio and has released music as Outulintu. This is a floating, beautiful track. We also get some nice female vocals in there. Track 4 is by Human Blue (Dag Wallin) from Sweden who usually releases progressive trance, but he will release a chill out album on Chillcode Records soon. This one has an almost housy vibe, with a bit tribal rhythm drift working slowly through the track, with floating weird sounds above. It builds up in a nice way. Really looking forward to his album! Then we get a track by a side project of Mere Mortals called Crystalline. Really beautiful, floating lounge music, with some nice vocals in between (by Cristina Handrabur). Very dreamy track. One of my favourites on this compilation.

Track 6 is by a new Canadian name called Guru Shishya. Here we get some piano, violin, voice samples and jazzy vibes mixed with some breaks. Quite experimental track, but not exactly my cup of tea. Track 7 is by Liquid Stranger (Martin Stääf) from Sweden, also known as one half of the trance duo called Necton. Here we jump over in a very dubby soundscape. Slow, dubby beats and a quite weird soundpicture. Track 8 is by Alucidnation (Bruce Bickerton) from the UK, wellknown for his tracks on Big Chill Recordings. Here we get a beautiful, floating track with some down tempo beats, sound of water and swirling melodies. Track 9 is by Fredrik Ohr, who is a new upcoming artist from Sweden. Another quite experimental track with some african voice samples or something, mixed with relaxed beats and sounds. Really nice! Track 10 is by a guy who is known for several strong releases allready, Mystical Sun. He has previously released tracks on labels such as Waveform, Peyote, Interchill and Ultimae. Here we get a quite mystic, deep, floating track. Nice one. The last track we get on this compilation is a track by one of my favourite artists, Adham Shaikh. This is a track he originally did with Tim Floyd (on guitar) as Drift, but here he has made a very chilled remix. Nice, sleepy finish on the compilation.

Interchill Records keeps releasing high quality as always. On this compilation we get a lot of instruments and vocals in the tracks, which is why they call it earth octave lounge... Not my favourite Interchill release, but they have for sure picked out some beautiful pieces here. It's also interesting to hear the new, fresh artists that they dig out.
PKS (shivapks@hotmail.com)
Comment List
---
There are no comments.
---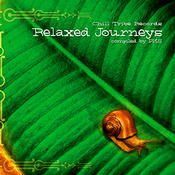 New album
from
Chilltribe
Relaxed
Journeys


Get your
Quality
Relaxation!