| | | |
| --- | --- | --- |
| PTX "Participate In The X-Periment" | | |
---
Top level
Music reviews
---
Review by PKS
Debut album by PTX out on Bionics Records...
PTX (Patrick Chen) from Israel is out with his debut album on Bionics Records. PTX has previously released a few tracks on various compilations, on labels such as Com.Pact and Bionics. Here we get a full on album.


PTX "Participate In The X-periment" Bionics Records 2005 (BIOCD05)

1. Participate In The Xperiment
2. Who The Dj Is?
3. Better Fly
4. Toxic Part Of Town
5. Face It
6. Politically Correct
7. Bluetooth Generation
8. Wonderland
9. Outro Electro

The first track shows us which style this artist is doing. Massive full on. Very pumping beat, with swirling psychedelic sounds above. We also get some screaming, full on sounds that we have heard a little bit too many times before, but except for that, this doesnít sounds too bad. Track 3 goes the same direction, but has some voice samples that I find very cheesy. Here we get some crazy melody too. Massive sound all the way. Track 3 is a rolling monster. Quite dark, intense full on, with some light in between. Track 4 is a really heavy, rolling track. Here we are definately over in a night time vibe. The bass line reminds me of typical darkpsy, but this bass line is much more massive and offcourse we get more melodies. Crazy full on.

Track 5 is my absolute favourite track on this album. This one has a really cool, rolling beat. I also like the sounds in this one, and we get a very nice floating part in the middle of the track. Nice one. Track 6 is a stumping track. The bass line is not so interesting in this one, but this track builds up and we get some pretty cool melodies. Track 7 goes a little bit more uplifting direction. Probably more suitable for the morning. This one becomes really melodic. Track 8 sounds more like a very typical full on track that we have heard many times before. Melodic, massive full on from beginning to end. The last track PTX gives us on this album takes us down to a chilled tempo. Here we get a floating, relaxed track with some guitar etc. Itís nice to get a chilled track after all the full on.

Not many people have heard about PTX before, but he has for sure some good production skills. Not all these tracks fits my taste, but I really like a couple of them, so check it out.
PKS (shivapks@hotmail.com)
Comment List
---
There are no comments.
---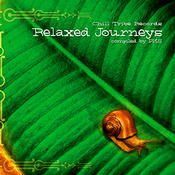 New album
from
Chilltribe
Relaxed
Journeys


Get your
Quality
Relaxation!