---
Top level
Music reviews
---
Review by PKS
New chapter of chilled tracks out on Agitato Records...
Agitato Records in Israel is out with the fourth chapter in their Chillum series, which is compilations filled with chilled tracks. As usual, the tracks are mixed together.


Chillum 4 (Agitato Records) 2005 (AGE1040)

1. CHP – Dubmystical
2. Space Monkey – Inner Waves
3. Beat Hackers – Velocity
4. Lab's Cloud – Esmeralda
5. T.K.Y. – Manara
6. Space Buddha – Natural Reflection
7. Trauma – Ultra Sequence
8. Toasted – Delete
9. Guru Nation – Digital Healing
10. Kali Frogz – Tronic Ultimate

First out is a fresh artist called CHP (Charlambos Pieris). Here we we get a mystic vibe through the entire track, with floating almost whispering sounds, relaxed beats and a tribal voice. Track 2 is by Space Monkey (Kfir Shlomovitz) who released a full on album (Psychotic Episode) on Agitato last year. Here he gives us a quite atmospheric track. Floating and relaxing with some weird kind of old school sounds and melodies now and then. Track 3 is by Beat Hackers (Guy Peled & Itay Needlman), who has released a trance album (System Error) on USTA in 2003. Here they give us a loungy track, with dubby beats and relaxing guitar sounds. Could call it quite easy digestible Ibiza chill or something. We also get some eastern, twisted vocals in there. Track 4 is one of my favourite tracks on this compilation. This is by a new fresh name called Lab's Cloud (Raul Jordan). This has very beautiful Indian female vocals and some realxing piano. Not very advanced, but definately beautiful. Track 5 is by T.K.Y. (Yaniv Zaidman) who has released a couple of tracks on other Chillum compilations too. This is a very chilled, floating track, but very easy digestible, with quite simple melody etc. Not among my favourites here...

Track 6 is by a more well known trance act called Space Buddha (Eliad Grundland), who has previously released five (!) albums on Agitato Records. This one starts with acoustic guitar. Again it doesn't get very challenging. The kind of chill out I get usually tired of after a couple of listenings. But, I like the twisted, eastern vocal in this one. Track 7 is by Trauma (Guy Peled) who is one half of Beat Hackers. He released an album (TB-O-Not-2B) under the Trauma name on Agitato last year. Quite different track with a lot of piano. Very melancholic track. Not exactly my cup of tea, but nice with some variation. Track 8 is by a new duo called Toasted (Eyal Arbuz & Ezra Arangi). This one sounds better in my ears. Quite trippy track, with some breaky beats and drifting sounds. Track 9 is by Guru Nation (Ralph Bridge) who has also released a track on another Chillum compilation. This track starts with some drug samples. It goes very tribal, but I find the sounds etc. in this track a bit nagging, and the melodies are a bit simple. The last track we get on this compilation is by a quite new name, Kalifrogz (Eric Brandy & Christophe Fabulet). They have previously made a track together with Cell, released on the Chilling Goddesss compilation on Peak Records. This one is pretty good. Atmospheric, drifting, relaxed finish on the compilation.

In my opinion, this compilation is not among the best chill out compilations I have heard lately, and not the best in the Chillum series either. But, we get a few nice tracks here with some nice vocals etc.
PKS (shivapks@hotmail.com)
Comment List
---
There are no comments.
---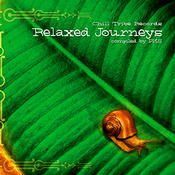 New album
from
Chilltribe
Relaxed
Journeys


Get your
Quality
Relaxation!