---
Top level
Music reviews
---
Review by PKS
Second chapter in the Chronika series is out on Boshke Beats Records...
Boshke Beats Records is back with their second chapter in their Chronika series. Boshke Beats has gained a great reputation from their strong, techno influenced releases, including some of the most wanted artists within the tech trance genre. Also this time, it is compiled by Alex Tolstey, who is heavily involved in this label.


Chronika Chapter Two (Boshke Beats Records) 2005 (BBCD004)

1. Tony Rohr – My Mind Is Going Dub
2. Midi Miliz – One Point One
3. The Delta – Hero FX (The Rockitmen Re-Construction)
4. Midi Miliz – No Alibi (Live At Transit)
5. Fuzzion – City Limit
6. X-Dream – Intercorporal Stimulator (Midi Miliz 2005 Rmx)
7. Metalogic – Irrational Impulse
8. Holeg & The Spies Feat. Bakxiii – Lost In Darkness (Fuzzion Rmx)
9. Taksi – Mal Was Anderes
10. Triple Distilled Vs. Fuzzion – Midnight Circulator

First out is a respected producer named Tony Rohr, who is a veteran i the techno scene. He has released several 12 inches on techno labels such as Hidden Agenda, Tora Tora Tora and Weave Music. Here he gives us a pumping, quite dark track with a cool voice sample (my mind is going dub) and some variation of sounds. Deep and drifting techno trance, with a little bit of progressive feeling. Nice one. Track 2 is by Midi Miliz (Arne Schaffhausen & Wayan Raabe) from Germany, also known as Spirallianz. They have a great reputation among tech trance lovers, and here you hear the reason why. A hard, pumping techno track that should fit the taste of every techno head, but also several trance people. Totally hypnotising techno drift, and after a while we get some beautiful atmospheric, floating vibes that lightens it up from the dark. Just close your eyes and enjoy! My favourite track on this compilation. Track 3 is originally made by the super group called The Delta (Arne Schaffhausen, Marcus C. Maichel & Wayan Raabe), which everybody should have heard about. This is a collaboration between people from X-Dream and Midi Miliz. The track we get here was originally released on a 12 inch on Boshke Beats in 2002, but here we get a remix by The Rockitmen, which is the compiler himself, together with a guy named Frederik Hatsav (Metalogic). They give us a pumping, evil version. Some elctrosound influences and pure dark, techno vibes all the way through. Track 4 is another track by Midi Miliz. This is actually a live recording from an amazing festival called Transit, which took place at a train station in Spain last summer. Drifting techno beats. Quite massive with some dramatic vibes and it goes very intense all the way through. Track 5 is by Fuzzion (Vladimir Kozlov) from Russia. This guy has released quite a lot on various psytrance labels, but has followed the techno side of trance from the beginning. Here we get a very electro influenced track. Sounds a bit like tech house, but with a bit more trancey feeling. Not as dark as most of the other tracks on this compilation.

Then we get a track made by one of my absolute favourite groups, X-Dream (Marcus C. Maichel & Jan Müller). Here we get a remix of one of their tracks done by Midi Miliz. This one sounds really weird and experimental. Again some tech house and electro vibes, mixed with some floating, trippy soundscapes now and then. Funny track that will for sure make some fun on a dance floor. Nice one. Track 7 is by Metalogic who has mostly released tracks on Boshke Beats, but also on Horns And Hoofs and Cold Groove Records. Here we get a quite interesting track with a lot of break beats, and again electro influences. Sounds really rough, but in between, we get some beautiful atmospheric vibes that lightens it up. Not bad at all. Track 8 is made by Holeg & The Spies, in a collaboration with someone called Bakxiii. Here we get a remix done by Fuzzion from Russia again. This time he goes a very different direction. This track is actually quite chilled, but still going in some kind of danceable tech house tempo. Quite industrial feeling, with some vocals etc. Really cool track. Then we get a track by another huge name in the techno scene, called Taksi, which is a collaboration between Paul Brtschitsch and André Galluzzi. They give us drifting track with twisted voice samples and some kind of happy, light sounds. We also get floating atmospheric vibes and some really weird ingredients. Nice and experimental. The last track we get on this compilation is a collaboration between Fuzzion again, and an artist called Triple Destilled, which is actually the compiler again (Alex Tolstey Kaplan). They give us a chilled finish. Dark and mystic, but still beautiful.

This is for sure a very strong compilation. Good tracks all the way through, and very refreshing, especially for a person like me who listens to way too much full on psychedelic trance these days. Here you get a lot of variation all the way through, from chill out to electro and pumping techno. Recommended!
PKS (shivapks@hotmail.com)

Comment List
---
There are no comments.
---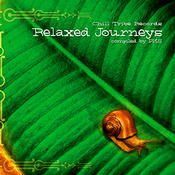 New album
from
Chilltribe
Relaxed
Journeys


Get your
Quality
Relaxation!