---
Top level
Music reviews
---
Review by PKS
New compilation out on Phonokol in Israel...
Phonokol Lmt. in Israel is out with their second chapter in their Psytisfaction series. Satisfaction for those who likes full on Israeli trance. This is probably the most sexy cover art Phonokol has had so far, and you will see more inside the cover... Judge it yourself... It is compiled by someone called Mr. O.K. (Oren Kristal).


Psytisfaction 2 (Phonokol Ltd.) 2005 (2332-2)

1. Melicia – Lightning
2. Hypersonic – Get Stronger
3. Intergalactic – Grab It
4. Gataka Vs. Zyz & Sequipa – Weekend From Hell
5. DNA – Fairy Tails
6. E-Jekt Feat. Karld – This Is A Dream
7. Aniki – Encourage
8. Tetrium – Limbo
9. Solar Plexus – Imaginary Muse
10. Dynamic – Expander

This compilation starts with a track by Melicia (Aviram Iluz) who has released an album (Running Out Of Time) on Phonokol in 2003. He gives us a massive, quite intense full on track. A little bit clubby, just like most other Israeli full on these days. Track 2 is by Hypersonic (Yoni Salah) who released a CD single (Larger Then Life) on Phonokol earlier this year. Here he goes very clubby as usual, and a little bit too fluffy for my taste. Track 3 is by Intergalactic (Vic Sheffi) who has released two albums, Outer Galaxy on Bionics Records in 2003 and The Future on Noga Records earlier this year. This one doesn't go as cheesy, and sounds a bit darker. Massive full on that should fit best at night. I really like some of the sounds we get in this one. Track 4 is a collaboration between Gataka (Matan Kadosh) and Zyz & Sequipa (Sergio & Stephano). They give us a very typical Israeli full on track, with some quite clubby vibes and twisted voice samples. Track 5 is by DNA (A-Tan Injection & Zeev Kardonsky) who has released a CD single (Pavilion) on Balloonia Records in 2004. This one goes deeper. A rolling monster, with very groovy bass line, some voice samples and echoing sounds. One of my favourite tracks on this compilation.

Track 6 is a collaboration between E-Jekt (Nir Shoshani) and Karld (Uri Azen). This one is really pumping, with several tiny, weird sounds jumping above. Very intense, almost nagging beats. This is among the most clubby tracks on this compilation, and way too fluffy for my taste. Reminds me too much of hard house. Track 7 is by an artist called Aniki (Yan Azoulay), which is the solo project of one of the guys in Nissimyani. Here we get another intense, clubby track. Full on, with fluffy sounds and melodies. One of the melodies here reminds me a little bit of old school Israeli trance, which is nice. Track 8 is by Tetrium (Gadi Abekasis) who released his debut album (Speed Of Light) on Phonokol last year. This one sounds a bit more massive, with more groovy bass line and some really swirling sounds above. It also becomes quite melodic. Track 9 is by a new fresh duo called Solar Plexus (Eran & Or Nardea). This one starts with some pretty weird sounds and builds up. Here we get some breaks in between in bass line, which sounds pretty refreshing. The melody we get here is pretty cool too. One of my favourites on this compilation. The last track Mr. OK gives us, is by Dynamic (Ben Avital) who has released a pretty strong album (Dynamix) on Phonokol in 2003. Here he has gone quite clubby. A groovy track with several good ideas, but it becomes a bit too fluffy for my taste.

On this compilation you get pure full on Israeli trance all the way through from some of the biggest trance acts in Israel these days. You get some fluffy tracks here, but also a couple of better tracks that will work well on full on trance floors this summer.
PKS (shivapks@hotmail.com)
Comment List
---
Topic:
Author:

Time:

Mike Mike

11.09.2005 22:11

Really cool cover.

Does anybody know if this was explicitly drawn for this cover or if this is a picture from an artist. (Would like to buy it...)


---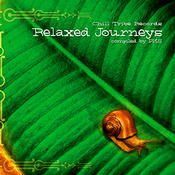 New album
from
Chilltribe
Relaxed
Journeys


Get your
Quality
Relaxation!