| | | |
| --- | --- | --- |
| Tripswitch "Circuit Breaker" | | |
---
Top level
Music reviews
---
Review by PKS
Debut album by Tripswitch out on Liquid Sound Design...
Tripswitch is Nick Brennan from the UK. He has previously released several great tracks on various compilations, mostly on Liquid Sound Design, the chilled side of Dragonfly Records. Now he is finally out with his debut album called Circuit Breaker on Liquid Sound Design. As usual, we get another masterpiece from this label, perfect timing before the summer.


Tripswitch "Circuit Breaker" LSD 2005 (BFLCD78)

1. Exiled (Manta Mix)
2. Shamanic Tea
3. Indigo
4. Roll Your Own
5. Tachyon
6. Cartwheel
7. Silver (Robot Baby Mix)
8. Tomahna
9. Viscous
10. Deer Park

First out is the Exiled track originally released on the Butterfly Dawn compilation. Here we get a remix of it. This one has very mystic, almost dramatic vibes, with chilled Indian vocals and slow drums. Deep and beautiful. Track 2 called Shamanic Tea was is also released on the Mana Medicine compilation on LSD in 2001. This is another classic masterpiece, which has been played a lot by chill out dj's around the world. It continues the mystic soundscapes, here with more dubby sounds and beats. The melody in this one is just incredible, almost trippy. The female Indian vocals we get here are also beautiful! Then we get a new previously unreleased track. This is among my many favourites on this album. Trippy vibes, relaxed down tempo rhythms, deep bass, great melodies and beautiful vocals. A track we will for sure hear a lot this summer. Track 4 goes another direction. Totally relaxing, with some spacey acoustic guitar. Very dreamy track, with some loungy vibes. Quite light and happy chill out. Nice one. Track 5 has some echoing voice samples. This is just a short track, lasting for 2-3 minutes.

Track 6 goes back to mystic, floating soundscapes. This track is very melanocholic, with some really beautiful melodies. It builds up a little, and after a while we get some relaxing beats too. Summer chill for sure. Track 7 is a great track called Silver, which was released as an Ott version on the Wider Horizons compilation on LSD last year. Here we get another version called Robot Baby version. We actually get a voice in there that sounds like a baby... This version is very slow and relaxing, with a chilled down tempo beat in parts of the track. Sounds pretty nice and organic. Track 8 goes another direction. Here we get dubby vibes again, mixed with some relaxing guitar sounds. This reminds me of some music from Hawai or something, but in an electronic version. Perfect for chilling out on the beach. Track 9 is previously released on the Namaskar compilation on Indica Music. This is almost a progressive trance track, still very relaxing, deep and quite trippy. An atmospheric, drifting track. The last track on this album takes us further into a chilled mood. This one is floating all the way through. A nice melancholic ambient track, with some soft vocals.

This is for sure one of the best chill out albums of 2005. An album that will fit perfect for your chilled moments this summer. Pure quality all the way through. The only down side I can point out, is that some of these tracks are released before. I really like the cover art on it too. Liquid Sound Design is doing it the right way, with Abakus last year and now Tripswitch, it seems like we will get two great summers in a row. Recommended!
PKS (shivapks@hotmail.com)
Comment List
---
There are no comments.
---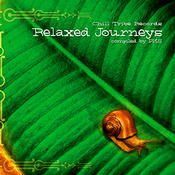 New album
from
Chilltribe
Relaxed
Journeys


Get your
Quality
Relaxation!